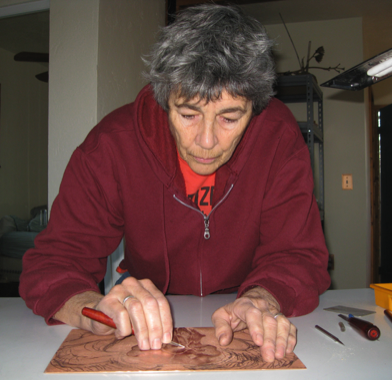 Jennifer Clarke
Born in Bexley, Kent, England in 1943.
After doing her BA at Goldsmith's College School of Art in London in sculpture and printmaking, tutored by Ivor Roberts Jones in sculpture and Paul Drury in intaglio printmaking, she did an additional year resulting in a Goldsmith's Diploma in printmaking.

She then moved to Denmark in 1967, later becoming a Danish citizen. In 1969, she was employed by the National Museum in Copenhagen and worked there for thirteen years working with Color Conservation. Here she was also given further education in decorative techniques, gilding, wood and marble imitation at the Copenhagen Conservator School.

In the early 1980's, she moved to the country to the Danish island of Langeland. This was a home base for the rest of her professional life working as a freelance restorer and conservator.

In the mid 1990's, she returned part-time to her love of printmaking, establishing her own print studio at her workshop on Langeland.

Discovering that there had been advancements in less-toxic print making methods, she attended courses at Wimbledon School of Art in London and at the Grafisk Eksperimentarium in Copenhagen. Since then she has continued to develop her printmaking skills using several of the new intaglio techniques. Since 2009 she has been absorbed in the labour intensive, she has been absorbed in making her prints using an old labor-intensive technique, mezzotint.

In 2006 she began to divide her time by living half the year at her island home in Denmark and the other half living in the Sonoran Desert in southern Arizona in the United States. While in Arizona she volunteered at The Drawing Studio, Tucson, Arizona, introducing non-toxic print making techniques to their studio practice.
In 2016 she moved to Arizona where she is establishing her own print studio. At The Drawing Studio she continues to introduce fellow printmakers to the intricacies of Mezzotint and printmaking generally.